As one of the Experimentation Scenarios in Active City Innovation, kreuz & quer aims to motivate children and youth to be more active in their living environments in Munich. The latest run of kreuz & quer started on 16 March 2022 and seems to arouse great enthusiasm among young and old, as a site visit shows.
On the second day of the kreuz & quer project (planned and implemented by the Mobility Department of the City of Munich) in the city district Giesing, children are already lining up in front of the blue boxes. Right in time at the end of the school day at 12:30 p.m., children pack their things and rush to the nearest blue box. Each child wants to hold their card to the box as soon as possible to collect points. We are only on site as observers on this day, but we experience the enthusiasm first hand: Children proudly report how many points they have already collected. One girl tells us that she has already collected 52 points and is highly motivated to collect as much points as possible on this day.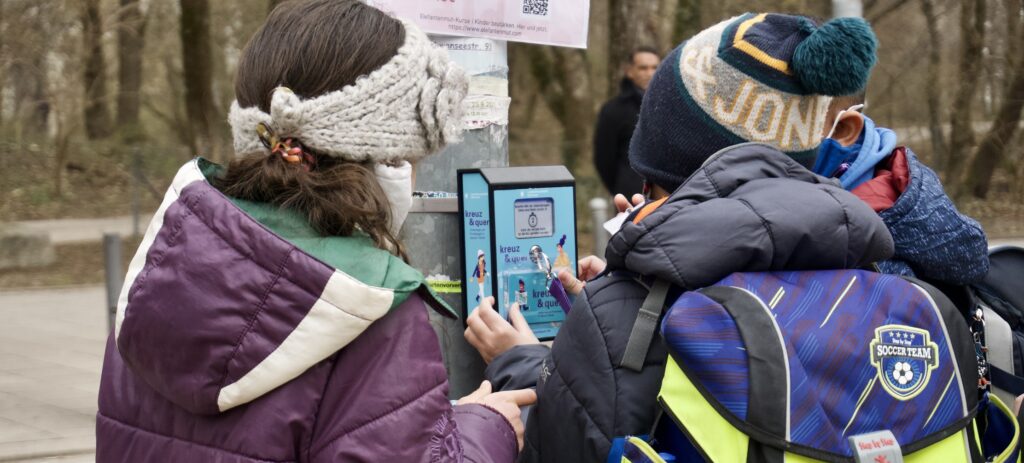 While some of the kids were jogging with family members, others were out with friends or collecting points on their own. No matter in which way, the children seem to have a lot of fun with the game. There is great interest especially in the yellow boxes, where you get more points. The challenge behind these boxes: they are hidden and change their location every two weeks. There are already rumors and speculations about the location of one of the yellow boxes – and rumors spread fast when lots of points are at stake!
It seems that not only the children are very enthusiastic about the project, but also their parents. The blue boxes in the city provide fun for young and old and ensure more activity for the whole family. Many distribution offices, such as the library or youth centers report from interested families who already picked up some cards free of charge for the whole family.
Now it's time to collect more points!
(Copyright all photos: Svenja Meyn)