Meet & Greet the Partners
Steve Cousins
Let's Circus
Entertainer, Circus Proprietor, Event Manager, Science Communicator, Geologist (B.Sc)
Steve Haake
Sheffield Hallam University
I am a sports engineer working on active travel, analytics and parkrun.
Franziska Krüger
Innovationsmanufaktur
I am Franzi, project manager in the Innovationsmanufaktur and passionate traveller.
Christoph Mall
Technical University of Munich
I am a sports scientist interested in benefits of physical activity in nature on human health and wellbeing.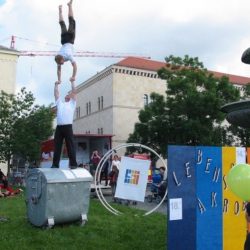 Fozzy Moritz
Innovationsmanufaktur
I am Fozzy, director of the German Innovationsmanufaktur. I am thinking ahead new developments and make others realize them.
Claudia Müller
University of Siegen
I am professor at Uni Siegen and leading the work group "IT for the ageing society". I also have a position at Careum Health Research, Zurich.
Martin Strehler
Innovationsmanufaktur
I am a sport scientist and I have dedicated my live to innovations especially in the field of sports. I have to test all new sports gadgets I can lay my hands on...
David Struzek
University of Siegen
I am David, a research associate and PhD student, exploring how creative and innovative technologies support and bring people together in rural and urban areas.