Every two years, our network Partner TAFISA (The Association For International Sport for All) hosts the TAFISA World Congress. This is an international conference to promote the philosophy and physical activity of Sport for All. This year, the congress took place in Tokyo between 13-17 November and we participated with our session "Active City Innovation".
Two external experts, perhaps even future network partners, Joris Wils from the City of Antwerp and Jakub Kalinowski, President of V4Sport Foundation from Poland, introduced our session with their presentations on the benefits of Big Data for the field of health care and for activating people for more movement.
The main topic of our panel discussion moderated by Fozzy Moritz (Director of Innovationsmanufaktur) was which motivators are needed to activate people to exercise more and how to generate joy in movement.
We were accompanied by Tom Fritz from the Research Group Music Evoked Brain Plasticity, Department of Neurology, Max Planck Institute, and he introduced the Jymmin system. Here, music serves as a motivator to combine expressive performance with physical movement.
Ando Ryoichi, Director of the Superhuman Sports Society and our gamification expert presented the idea to use the gamification concept as a motivation to discover new movement possibilities.
Keri McDonald, Business Development and Fundraising Manager at TAFISA, reported on how innovation can contribute to making cities more active in contributing to their inhabitants' enjoyment of movement.
Naonori Itoh, from the Wellness Business Department, Sumitomo Rubber Corporation and expert from the sports industry reported that he sees the topic of joy of movement as an exciting new market.
Chikara Miyaji, project researcher at the University of Tokyo and a Japanese sports scientist, reported on outdoor judo and the phenomenon that there is hardly any possibility for older people to do judo. Therefore, in cooperation with our German partners, an outdoor judo mat will be developed.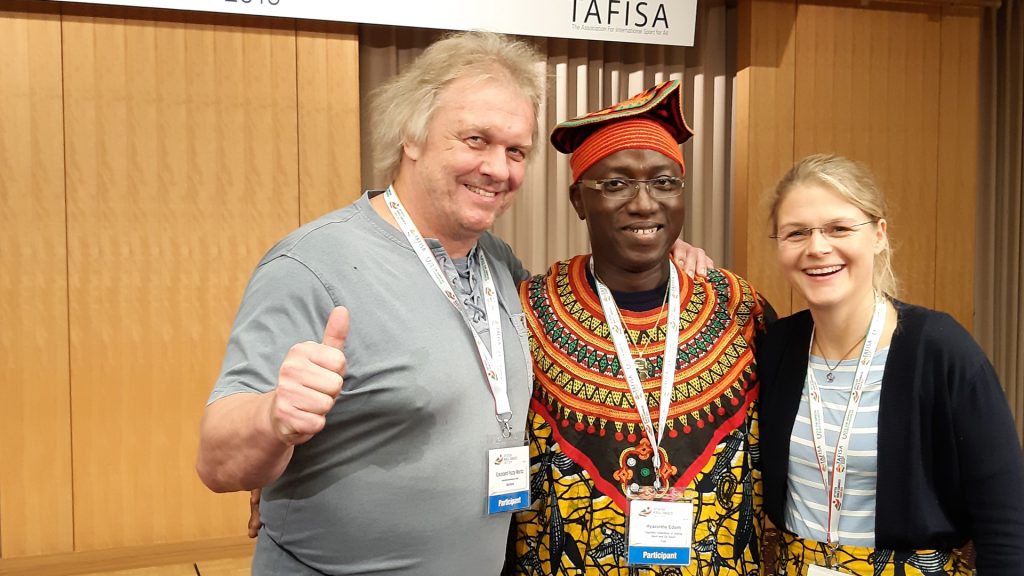 The panel discussion with our international partners from the various SINN-i projects has resulted in many synergies and a productive exchange between the partners, which bodes well for future cooperation's.
The TAFISA World Congress also provided a platform to meet exciting new people such as our future partner Hyacinthe Edorh from the Skicross-Team Togo.