In the context of our project "SINN-i: Active City Innovation", Eckehard Fozzy Moritz and Charlotte Meixner from , Martin Soutschek from and Lisa Herrmann, Franziska Sippel and from the Technical University of Munich visited Sheffield to explore the various activities: the Experimentation Scenarios (ES) 4 Sheffield "The Outdoor City; Active Living Environments – Waverleys Masterplan; Sheffield Olympic Legacy Parkand Move More Sheffield."
One goal of Sheffield The Outdoor City is to increase the attractiveness of parks and open spaces for physical activity and therefore the well-being in and around the city. Thus, the Sheffield Olympic Legacy Park was transformed into a multipurpose fitness park. As part of the 10th anniversary of the Olympics, 1004 students and 600 individuals visited the park on the anniversary weekend 17-18 June. In partnership with Move More, a physical activity strategy in Sheffield, Sheffield Hallam University, and the Advanced Wellbeing Research Centre (AWRC), the Olympic Legacy Park offered 32 different activities for young and old. These included a color run, a heptathlon where you received a medal if you successfully completed all disciplines, presentations on #ActiveCityInnovation, and gatherings to discuss more innovative ideas for activating cities to be more active. We were part of the VIP tour around the Olympic Legacy Park and had the chance to discuss various topics of #ActiveCityInnovation with e.g. Richard Carbon, former Sports Minister, and Councillor Sioned-Mair Richards as well as many people involved at the Olympic Legacy Park, the Move More campaign, the AWRC and other engaged local stakeholders.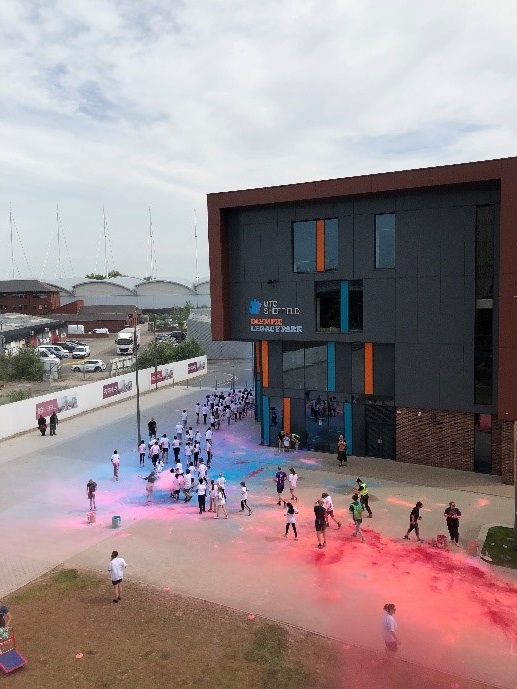 During our trip, we furthermore explored the Peak District National Park in close proximity to the City of Sheffield; it is one major spot for various outdoor activities and outdoor sports as well as the residential area developments around Waverly.
We are happy about the insights gained and thank everyone who made this impression: Anna Lowe, Steve Haake, Claire Fretwell, Maxine Gregory, Nick Hamilton, Tom Hughes, Rachel Weston, Clair Parkinson, Rob Copeland, and many, many more!